Hello, I'm Colleen Brown, and if you're visiting this page, you likely already know that I am a Canadian musician, singer/songwriter (and granola baker!)

As an independent artist I spend a lot of time working at my desk, pushing papers and drinking too much coffee, but sometimes I also get to play music, and that is where YOU come in!

I am often asked- What is the best way to support independent artists? Well, besides coming out to our live shows and buying our music through a site like bandcamp, now you can also Subscribe to become a patron of our music!

Subscriptions helps us artists to build a more reliable income PLUS it gives us an avenue to release music for you to hear at the same pace as our creativity, rather than just releasing an album every few years.

So if you sign up for my subscription here on this page, you'll be receiving updates through the bandcamp app about my travels and my creative progress, which will include exclusive recordings of songs I am writing, way before the general public hears them. (As well as immediate access to my digital back-catalogue!)

I am currently planning my first tour in Europe. I have a handful of my own shows booked in Austria, Germany, Holland and the UK, and a couple others backing up friends in Amsterdam, Copenhagen, and other parts of Germany.

I will be a traveling gypsy for 2 full months, working at making personal connections so that I can book more shows- and better shows- on future tours.

I am intimidated by this trip because I can barely navigate my Edmonton hometown! But I am also excited and have always been inspired by travel, and even by getting lost, which you can hear in my new album 'Direction'.

So I have given myself the challenge to write and record one new song in every country I visit on this trip, which you will have access to as a subscriber.

Plus! I'll be teaming up with a few of my super talented producer friends like Buck 65, Mitchmatic, Jesse Northey, and David Celia,(as well as a couple of other potentials) so we can bring a real variety and depth to the songs- some acoustic, some fully produced versions.

It will be just like traveling Europe with me, vicariously! (Or an adventure of some kind anyways!)

And you can feel good about being part of the reason that I can continue to create new music.

Please join me in this journey!

Thank you, and I'll see you down the line...
Colleen <3

Here's what you get:
All the new music I make

streaming instantly on your mobile device via the free Bandcamp app, and also available as a high-quality download.*

These back-catalog and subscriber-only releases:
A 15% discount on all my merchandise.
The satisfaction of knowing you're supporting me in a sustainable way.
You're a subscriber
Thank you!
* Downloads are DRM-free and available in MP3, FLAC and
more
.
Colleen Brown
Edmonton, Alberta
Often compared to Heart and Joni Mitchell, multi-instrumentalist Colleen Brown writes folk-pop songs about love, fate, and psychic retooling. The Globe and Mail declares "The talents of this musician shine like a beacon. Her boldly written originals… have the good bones and great melodic rhythm of classic big-screen pop songs"
Upcoming release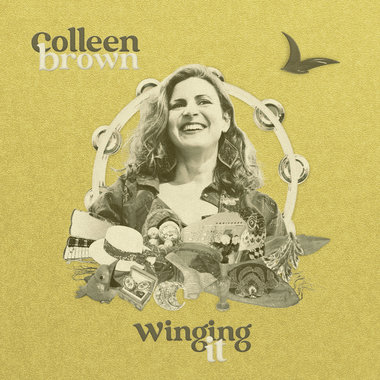 Winging It